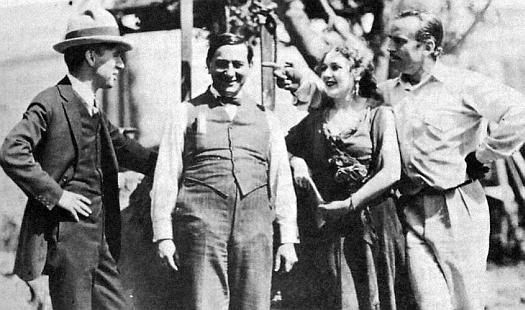 Lubitsch with Chaplin, Pickford, and Fairbanks
Ernst Lubitsch (1892-1947) died sixty-five years ago today. The world lost one of its greatest talents that day. In honor of Lubitsch, here are my three favorites of his movies:
The Oyster Princess
(1919): If you haven't seen a silent movie (or don't like them, yet),
The Oyster Princess
would be a great place to start, particularly if you like Lubitsch's later movies. The movie makes fun of Americans, in general, and in particular the 'fad' of rich American heiresses marrying poor European royalty. Ossi Oswalda stars as the spoiled daughter of the Oyster king. Oswalda was known as the 'German Mary Pickford' for good reason and you see some of her charm and talent in this film. Also watch out for the hilarious 'Foxtrot epidemic' scene.
Ossi inspects the 'prince'
Trouble in Paradise
(1932): This is the movie that I think best personifies the Lubitsch touch. Light and sophisticated, Lubitsch puts two and two on the screen, but he doesn't force the point that it equals four. (A lot of directors could learn a thing or two about this. Even Billy Wilder had a sign that said, "What would Lubitsch do?") The movie tells the story of two thieves (Miriam Hopkins and Herbert Marshall) who fall in love and plan to steal money from a rich heiress (Kay Francis). My favorite scene is the first one, where Hopkins and Marshall find that they are sole mates.
My Sweet Little Pickpocket
Ninotchka
(1939): Lubitsch got great performances from his actors. This is true in
Nincotchka
. Garbo gives one of her most unforgettable performances as the laughing Soviet. The movie tells of a Russian spy (Garbo) who comes to Paris and falls in love with a Parisian (Melvyn Douglas), but it is so much more than that.
Gotta Love that Hat